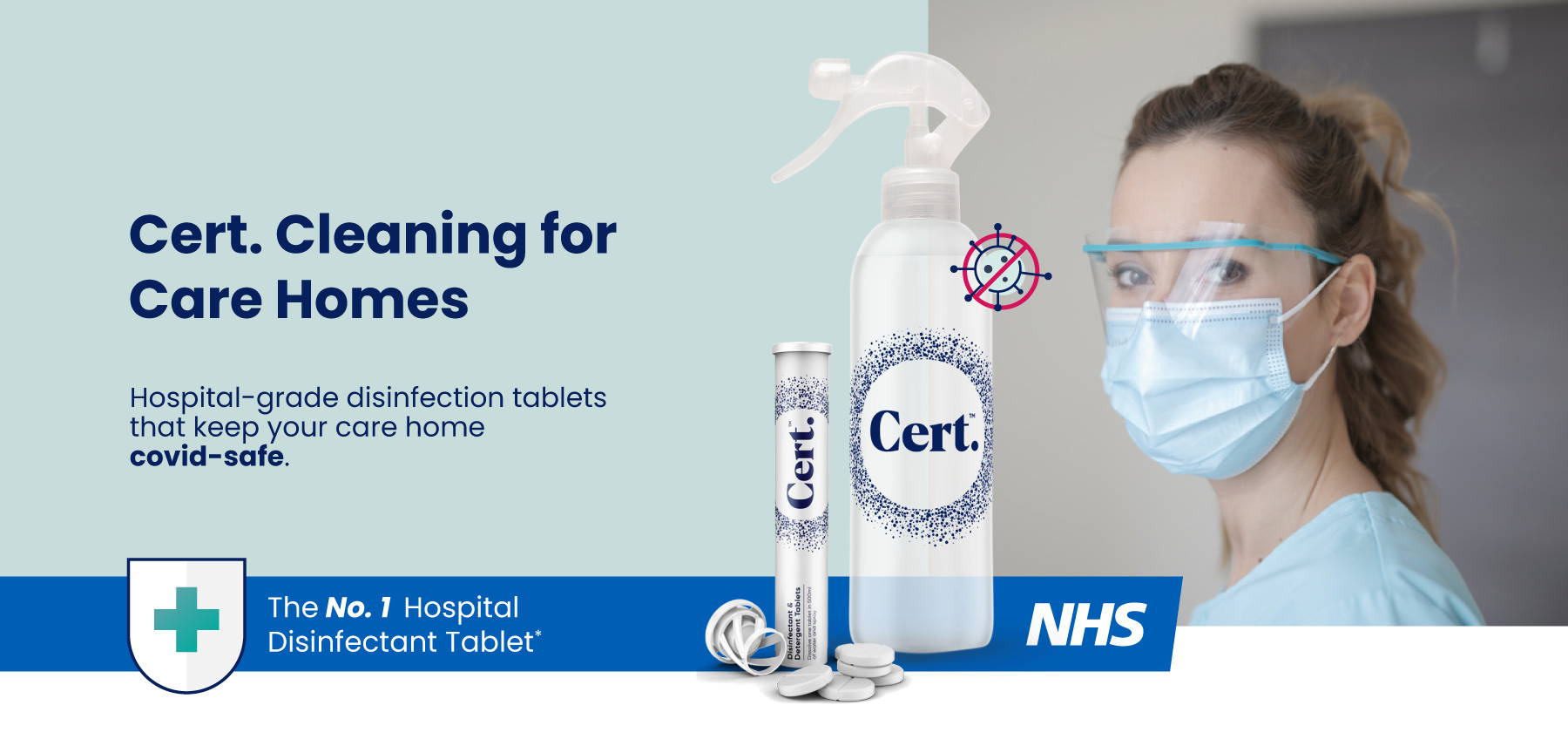 Antibacterial AND Antiviral
We know that in care homes, hygiene and infection control are high priority. Cert. cleaning tablets are effective against SARS-CoV-2 (responsible for Covid-19), C-difficile & MRSA viruses, and 99.99% of bacteria & microorganisms.

Keep your residents & staff safe & protected.

Kills Covid-19 is 60 secs


Independently Tested
& Approved


Trusted by NHS for 50 years

Complies with Public Health England Guidelines
Cert. cleaning tablets saves your business money.
Each tube of Cert. cleaning tablets contains 18 dissolvable disinfection tablets.  
Keep your care home protected from just 8p per day.
Please contact us for prices for orders of larger quantities.
Used in Hospitals Worldwide
Over 95% of the NHS's tablet disinfection treatments are made by Hydrachem.

During the pandemic, we recognised a growing need for our disinfection & cleaning tablets to be made available to people at home and so Cert was born. Cert tablets are made with the exact same formula as the tablets we produce for use in the NHS and UK hospitals.
You can trust Cert. to provide hospital-grade hygiene to your care home.
Destroys Covid-19 in 60 seconds
Most antiviral sprays need a whopping 5 minutes to work – Cert. is tested & proven to destroy Covid-19 in just 60 seconds on a surface. This drastically cuts down the time it takes for staff to clean & disinfect a surface.
Simply spray, wait 60 seconds and wipe away.
Learn more
With refillable tablets, you no longer need multiple cleaning products taking up valuable cupboard space.
One tube = 18 refilled bottles of hospital-grade cleaner.

Cert. is for any hard surface or floor – no need for multiple cleaning products.
If you are looking to buy larger quantities of Cert. cleaning tablets for your business or healthcare setting, just get in touch.